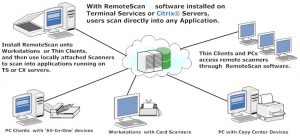 Citrix is well-known brand for the quality of their products and their dedication is to ensure only the best for companies which utilize their product. But, all companies are not equipped with trained professionals who are well aware of the ins and outs of the Citrix line of programs and materials.Citrix products are used all around the world by IT companies with a view to improve the quality and efficiency of their organization's Information Technology services and general networks.
That is precisely why IT companies have the requirement of professionals who are competent of installing, implementing and troubleshooting Citrix products. This requirement in the IT industry has been vast, and a lot of job opportunities for Citrix-trained individuals have emeged just because of this fact.
Citrix XenDesktop is a suite of desktop virtualization products from Citrix Systems. With its bundled components, XenDesktop is equipped to deliver several different types of virtual desktops. This function is called to deliver desktops by a variety of methods such as FlexCast and disk images must be modified for each delivery method.